Sugarrae Shares Affiliate Marketing Infographic
The infographic that Sugarrae created and published on her site Sugarrae.com is very helpful in understanding how affiliate marketing works. An online merchant and an affiliate (website owner, blogger, etc.) strike up an agreement (usually via a third party network).
The affiliate then links to the merchant and works to promote the merchant and drive traffic to the online merchant store. When someone clicks the link and enters the merchant store, the cookie is set and contains the information about the referral. If a sale happens, the reports will show a commission due the affiliate, who is usually paid thru that same third party interface.
Here's the Infographic:
Click here to view a larger version.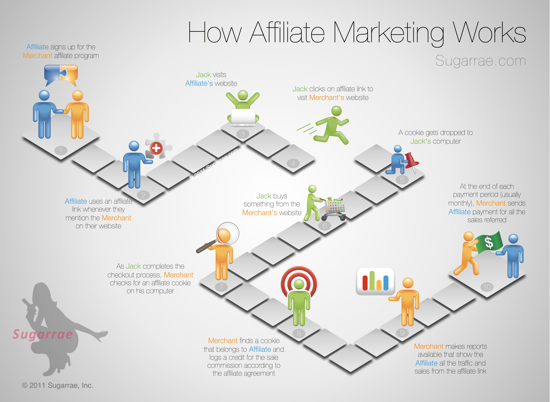 [Image provided courtesy of the Sugarrae affiliate marketing blog.]